I picked up a great little cowboy gun yesterday. I'll post up some pics and info later on. Guess this is just a teaser for now ... lol.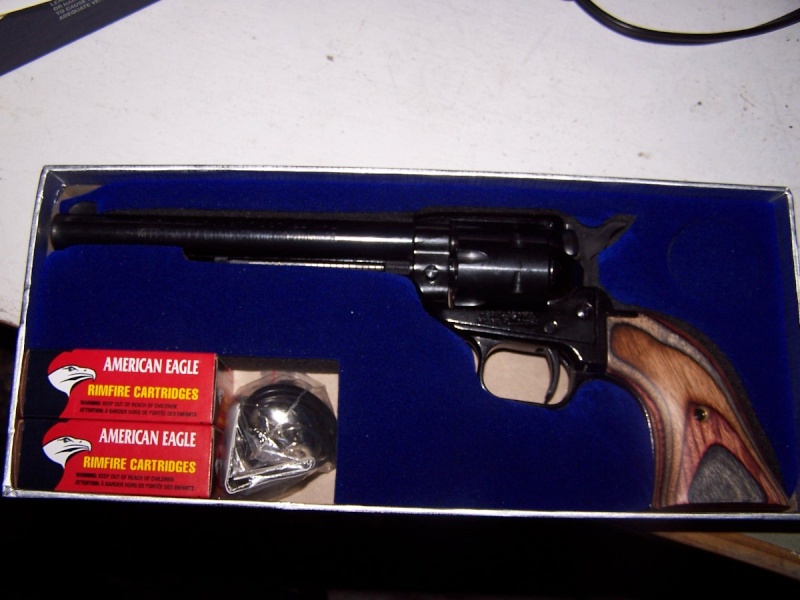 This is called the Rough Rider. This one has a 6 1/2in. barrel. It comes in .22 lr,long,short,cb & shot. .22 mag., .17 mag., .32 h&r mag. .32 s&w, .32 s&w long, .357 and .45.
Barrels in 3.5, 4.75, 6.5 and 9 in. Weighs about 34 ounces in .22. Mine has the case hardened frame, but I bet it wont show up the colors in the pic. The frame is pretty dark in color.
Went to a new rang last Fri. ans tried it out. It's at
www.gunsandleather.com
. A nice store with plenty of weapons and an on site gun smith too. The range is kinda short though compared to the one at On Target which is 100 yds long.
www.ontargettn.com
They have a lot of good deals on weapons at Guns and Leather, but I did not check ammo prices. Have a nice leather smith on hand to make just about any rig you want to carry.
The cowboy gun fires flawlessly all day long without a single problem at all. It does shoot a little high at closer ranges, but that's to be expected I guess. For a gun that only cost me $180 tax and all with two boxes of ammo, I'd say I got a great deal. Very fun to shoot and still pretty cheap to get ammo for.
Easy to clean to. Just push a button and pull the cylinder pin out and you can clean around the cylinder area and a simple short rod down the barrel with patches and your done.

Similar topics
---
Permissions in this forum:
You
cannot
reply to topics in this forum