Anyone ever use a truck arm type rear suspension on an F body? If they do away with our NASCAR Track, I am really thinking about building me an SCCA road race car un the unlimited class. I'm going to build it with a NASCAR style cage just like all my other cars, but the suspension will be quite different.

My thoughts are to do away with the front T bars and lighten the K frame like we do on the cars we run now. Without the bars loading, I may be able to lighten it up some more. It will be mounted straight to the frame as well. Engine mounts will be an engine plate so the change wont effect anything and we already use custom oil pans from Kevko. I'll be using tube lower and upper control arms with bearings and races. The upper will have a perch and use shims to adjust caster/camber. It will have arm adjustments to change the front roll center as well. Not sure of the lentght of the arms at this time though as it does effect the camber curve during dynamic use versus static settings It will use a 7" adjustable coil overs as well.

The rear will be a NASCAR truck arm. Pretty light weight and adjustable for wheels base, forward bite and axle lead. I doubt we will need the axle lead though, but it's part of the mount. The rear will be supported with 9" adjustable coil overs.

Both front and rear will use a race car type adjustable sway bars as well.

It should make for a nice ride, but I just aint sure about the truck arms. I already know the front works though. It's not too far off from what we run right now. I guess it should work though, after all NASCAR runs it on it's road courses with pretty good success.

Got any comments on this set up ?? Post them up. :chug

_________________
www.moparperformancechat.forumotion.net

Check out our club at www.musiccitymoparclub.com

Click here and check out this free game I am playing. http://s11.gladiatus.com/game/c.php?uid=91121
I was doing a little research on this since I will most likely be building this new car next year and thought I'd pass some of it on.
Truck Arms--The NASCAR Favorite
Chances are, the only time you have seen a truck-arm style (aka center drive) rear suspension is if you looked under a NASCAR racer. Winston Cup, Busch Grand National, Craftsman Truck, and IROC drivers have been tweaking this technology for the last 30 years. Hot Rods To Hell, in Burbank, California, has been retrofitting classic cars to center drive technology for over 10 years, so we hit them up for their insight on this system. HRTH had this to say, "To start with, a truck-arm suspension cannot bind under any type of condition. The suspension stays supple, the arms converge on an actual instant center and, because of their length, they remain neutral throughout bump, droop, and roll travel. The axle travels straight up and down so the wheelbase also remains constant. Your driveshaft slip yoke barley moves, and torque-induced chassis twist is eliminated. Also, the chassis is no longer being pushed around from the rear outer extremities by short little links, or the front half of leaf springs." HRTH also mentioned that the system eliminates wheel hop and is fully adjustable. These adjustments allow you to set the ride height and still maintain a level Panhard rod.
0604Phr Susp 13 Z
Hot Rods To Hell offers kits...
read full caption
0604Phr Susp 13 Z
Hot Rods To Hell offers kits to put a NASCAR-style truck-arm suspension under your classic ride. Truck-arm suspensions are simple, and they work reasonably well on track.
To find out a bit more about how a truck-arm suspension works, we hit up suspension specialist Kurt Binkley for his take. Kurt works for PPC Racing, which handles the cars for Kenny Wallace, John Andretti, and Craftsman Truck Series driver, Terry Cook. In Kurt's words, "Well, the standing joke is that all NASCAR cars are basically '67 Chevy trucks with headers and an aero-package!" Kurt went on to explain how the truck-arm suspension works, "The truck arm is an I-beam arrangement that pivots on a mounting point just aft of the trans tailshaft and is hard-mounted to the axle. There are various ends used at the forward mounting point depending on racetrack distance. The adjustable Panhard rod allows the opposite sides to be set for proper handling at various tracks. Coil springs rest in pockets on top of the truck arm, just forward of the axle. The upper pockets have a vertically adjustable plate that can compress or decompress the spring to change the ride height for specific tracks and conditions. When a driver comes into the pits and the pit crew adds or removes height, they are adjusting this plate up or down." This design allows for quick fine-tuning of the suspension, including the pinion angle, by the NASCAR mechanics. When we asked Kurt why NASCAR continues to use this technology he said, "It's required that we run this type. NASCAR is still old school." It also can be argued that this setup gets the job done on some of the fastest racecars around.
According to mechanical engineer Katz Tsubai, "The pros of a truck arm suspension are stable IC location, good roll steer characteristics, and good yaw response. This results in consistent behavior under both acceleration and braking. As for downsides, he points out the overall weight of the system, both sprung and unsprung, is quite high. Also, since the trailing links are rigidly mounted on the axle, components must elastically deflect in order for the suspension to roll. Try visualizing the whole suspension system as a giant anti-roll bar, with the axle assembly being the bar and trailing links being arms. You can see why the system restrains the roll." It should also be noted that running a full exhaust system with this type of rear suspension is quite a challenge due to how much real estate the components eat up under the car.
69boo307
Oct 8th, 04, 1:09 PM
I've put about 5,000 miles on mine so far. I went from the original stock suspension to the truckarm kit, yes.
I think one of the mag's did do a 'before/after' test, there are some videos on the HTH site from it. They put the kit on a chevelle and tested 1/4 mile times and I think a slalom course with before/after results, keeping everything else the same including some crappy tires.
I wish I could just give you a ride in my car, it's a completely different car than it used to be. The truckarm has an advantage in some circumstances such as bumpy/rough pavement, and would probably do better in a really tight course than a car with stock style suspension. It launches really smooth and straight at the drag strip. It has a different ride quality than the 4-link too, but ride quality is a subjective matter. Part of the 'feel' of the truckarm setup is due to the fact that you don't need to run a rear sway bar and can use the small factory front sway bar. This lets the springs/shocks do more of the work, and you get a smoother ride with better response on rough surfaces. With a stock style suspension you're probably going to need some beefy swaybars to keep body roll in check.
I'm sure one could build an A-body with a stock style suspension that would perform as well, the truckarm car would probably get it done a little more 'comfortably' if that makes sense.
I can tell you this, I've pretty much beaten the crap out of my car, as best i could with the little 307 under the hood, and I have yet to make the car 'push' or oversteer, even deliberately trying to do so in an empty parking lot. I also have yet to induce any sideways slide, again even trying to find the limits of the tires. Thus far I'm limited by my stock steering ratio and my lack of harnesses to keep myself seated in the car, the car's grip exceed both. Keep in mind though, I'm running high performance 275/40/ZR17 tires, I have a tubular front setup with an aggressive alignment, at leats for the street
(-.7 camber), and every bushing and suspension piece on the car is brand new. The HTH kits come with a very sweet spring/shock combo, which probably has as much to do with the improvement as the truckarms themselves do. My point is I did alot more than just add a truckarm kit, so it's hard to say what improvement that alone has made.
Another anecdote, I have a friend with a '99 camaro that loves to road race and has done many track days and road race events. He runs Yoko A032 road race tires on the street. I followed him to the dragstrip, and there are a couple of good turns and a cloverleaf exit where we always like to to test each other's 'balls'. To both our extreme surprise, Big Green hung right there with him through a cloverleaf and a 90 degree right turn.
Anyway, I'm not really giving you any concrete or quantitative information there...suffice it to say I'm happy with my car and it gets the job done, but I don't make any claim that what I have is the best possible setup. Everyone that rides in it is very impressed at the ride quality. I'm really more proud of my brake setup than my suspension setup, the C5/hydroboost brake setup is AWSOME. It will literally lift you out of the seat and make you nauseated under a full-on panic stop.
If I go to this set up I'll be running the pieces from stock car products which make the same exact pieces they run on NASCAR cars. The other link sells some form of it too.
http://stockcarproducts.com/trkarm.htm
http://www.hotrodstohell.net/truckarm/c ... a_body.htm
Our Centerdrive
Truckarm Kit eliminates wheel hop, vastly improves handling and traction while maintaining a comfortable and compliant ride. We like to say that it rides likes a cadillac and handles like a slot car.
This kit is designed to work with any standard sized rearend and comes with all the required brackets for a blank rearend. The included screw jacks allow you to adjust the ride height of your vehicle and set wedge to improve your launch. If the car wants to step out on you, put a few rounds in on the offending side and you will be launching arrow straight.
This kit completely replaces your factory suspension and comes with shocks, springs, and all required hardware.
Average Kit Install Time : 10-15 Hours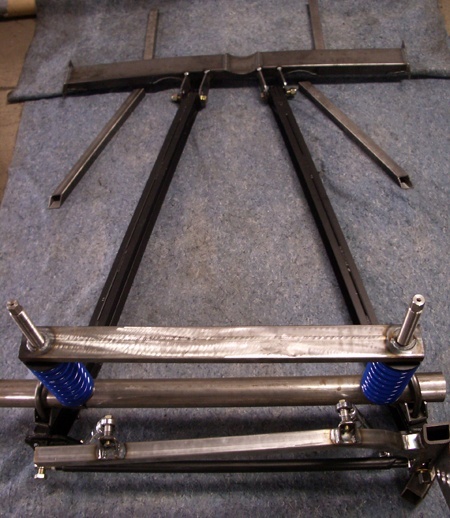 _________________
www.moparperformancechat.forumotion.net

Check out our club at www.musiccitymoparclub.com

Click here and check out this free game I am playing. http://s11.gladiatus.com/game/c.php?uid=91121


Similar topics
---
Permissions in this forum:
You
cannot
reply to topics in this forum